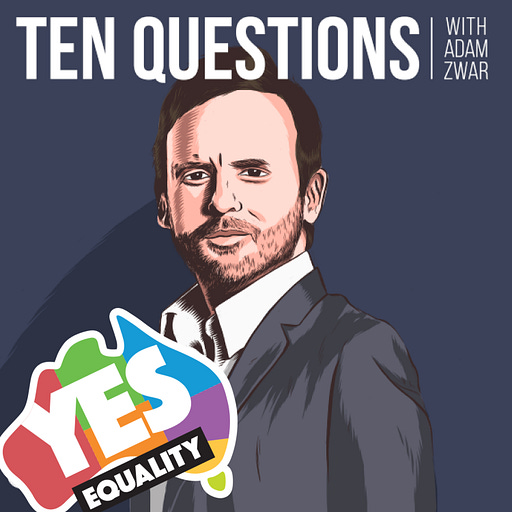 Dec 22, 2017 • 28M
S1E45: Tracey Spicer
'Out of the Question with Adam Zwar' features in-depth interviews with the most interesting and accomplished people in entertainment, politics and sport. It's an update on the original '10 Questions with Adam Zwar'
Tracey Spicer was my favourite newsreader in the 90s and 2000s – back in the days when you had a favourite newsreader because there were only about 12 of them.
But I had no idea what was going on for her behind the scenes – the general harassment and discrimination.
All this she talks about in her book, The Good Girl Stripped Bare, which has just joined the best seller list.
Since her newsreading days for Ten and then Sky News, Tracey's been a columnist and documentary producer.  But more recently, she's been an advocate for women in the workplace which has led to her high profile investigation of sexual harassment in Australia media.
The investigation has left Tracey physically and mentally exhausted. She talks about that in the interview. Tracey's got broad shoulders – and over a thousand women who have been horribly treated by work colleagues are relying on her to tell their story, which in turn, will hopefully bring about a seismic change in how people interact with each other in a professional setting and, more particularly, stop men using a position of power to sexually exploit women.
But we get to all that later because I had to start off by asking Tracey when she was most happy.
Socials
Twitter - Adam Zwar / Tracey Spicer
Facebook - Adam Zwar / Tracey Spicer
Thanks to this episode's sponsors
Tim Roger's new book "Detours"
"How to build a universe" by Brian Cox & Robin Ince.
10 Questions with Adam Zwar is produced by Nearly.
On the web -10questionswithadamzwar.com
More about Out of the Question: https://www.nearly.com.au/out-of-the-question-with-adam-zwar/
See omnystudio.com/listener for privacy information.