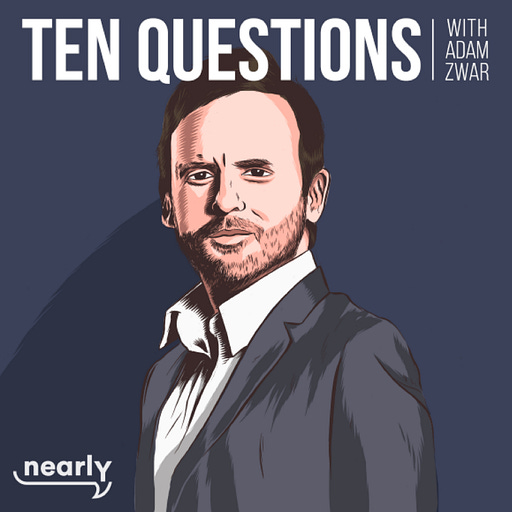 Jan 4, 2018 • 1HR 0M
S1E46: Stuart MacGill
'Out of the Question with Adam Zwar' features in-depth interviews with the most interesting and accomplished people in entertainment, politics and sport. It's an update on the original '10 Questions with Adam Zwar'
The champion Australian leg spinner, Stuart MacGill.
Now, I'd probably be happy to devote more of this podcast to cricket, but I've held off because I wanted to speak to a cricketer who thinks a little deeper about life and the world than your average test legend.
In cricketing terms, Stuart was an incredibly gifted leg spin bowler who turned the ball a mile and had a brilliant test average, and who just happened to come along at the same time as the greatest of all leg spinner bowlers, Shane Warne.
But MacGill never tried to compete with Warne. Warne was all bravado and glamour – whereas MacGill held his emotions in check. The facts are that MacGill is the seventh quickest in history to get 200 wickets – getting to the milestone faster than both Warne and the all time greatest wicket taker, Muttiah Muralitharan.
Outside of cricket, Stuart's a voracious reader – famously reading 42 novels on a tour of Pakistan. He is politically aware – once boycotting a tour of Zimbabwe because he wasn't comfortable with the Mugabe regime.
In 2000, he married the Australian actress Rachel Friend and the couple, who separated in 2013, have two children together.
Since he retired in 2008, he's hosted a TV show about wine and been a coach for hire.
He's had a few public ups and downs, but now he's getting back to a good place and I encourage you all to follow his witty and polemical Twitter account @scgmacgill.
Socials
Twitter - Adam Zwar / Stuart MacGill
Facebook - Adam Zwar / Stuart MacGill
10 Questions with Adam Zwar is produced in party by Nearly.
On the web -10questionswithadamzwar.com
More about Out of the Question: https://www.nearly.com.au/out-of-the-question-with-adam-zwar/
See omnystudio.com/listener for privacy information.