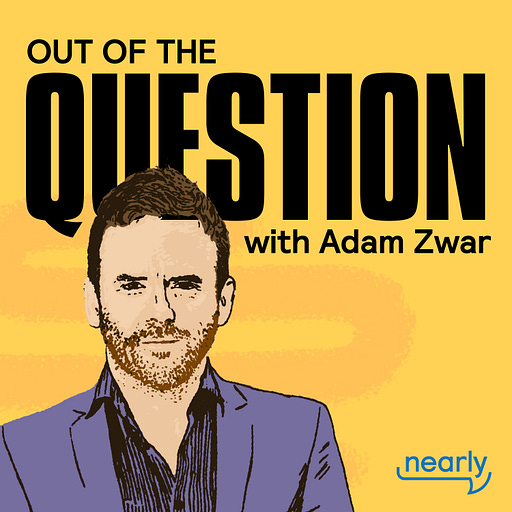 Aug 8, 2021 • 24M
S1E53: Kat Stewart
'Out of the Question with Adam Zwar' features in-depth interviews with the most interesting and accomplished people in entertainment, politics and sport. It's an update on the original '10 Questions with Adam Zwar'
One of my favourite actors – a performer who can do comedy and drama, stage and screen, and that's Kat Stewart.
Kat got a degree in marketing and arts before attending the National Theatre drama school at night while working as a publicist during the day.
After graduating, she started making guest appearances on The Secret Life of Us, Stingers and Blue Heelers before landing her first leading role on BBC's Supernova opposite Rob Brydon.
After that, came her award-winning turn as Roberta Williams in Underbelly – followed by Newstopia, Tangle, Offspring, Mr and Mrs Murder and now Five Bedrooms.
We discuss most of those shows in this interview and a few more.
But before getting to the questions, we talked about our childhoods and Kat happened to mention she went to school with Portia De Rossi.
Socials
Twitter - Adam Zwar
Facebook - Adam Zwar
10 Questions with Adam Zwar is produced in part by Nearly Media.
Looking for another podcast between episodes of 10 Questions?
The Junkees with Dave O'Neil and Kitty Flanagan

Somehow Related with Glenn Robbins and Dave O'Neil
More about Out of the Question: https://www.nearly.com.au/out-of-the-question-with-adam-zwar/
See omnystudio.com/listener for privacy information.