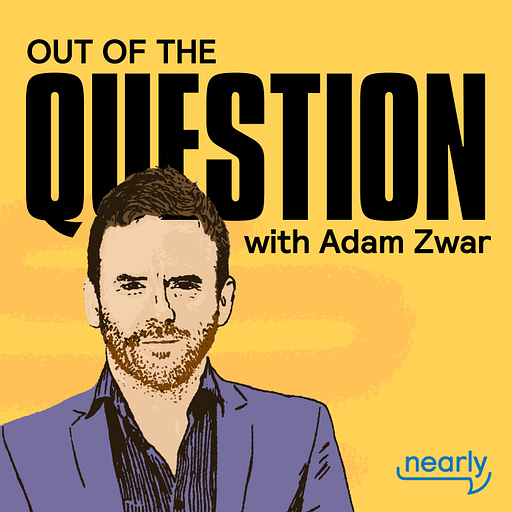 Oct 17, 2021 • 39M
S1E63: Shaun Grant
'Out of the Question with Adam Zwar' features in-depth interviews with the most interesting and accomplished people in entertainment, politics and sport. It's an update on the original '10 Questions with Adam Zwar'
Welcome to the 63rd episode of Ten Questions where Adam talks to Shaun Grant - the multi-AACTA Award winning screenwriter of Nitram.
Shaun's debut film, Snowtown, about the infamous Snowtown murders in South Australia in the 1990s – won multiple awards and screened at Critics' Week at the 2011 Cannes Film Festival.
And that's when Shaun's career took off – writing the feature films Jasper Jones, Berlin Syndrome, Penguin Bloom, The True Story of the Kelly Gang and Nitram.
He also wrote for David Fincher's Mindhunter on Netflix and the mini-series, Deadline Gallipoli.
He's possibly Australia's most in demand screenwriter, known for his willingness to tackle the weighty emotional subjects that others might see as too dangerous or too difficult to make.
Nitram premiered at Cannes a few months ago where the response to the film was unaminously positive. And that's where my conversation with Shaun started.
When asked about the time he was most happy, he said "now". And he wasn't just referring to his professional success, which he credits as being partly due to his continuing working relationship with the director Justin Kurzel,  but also the fact that he'd recently got married.
"The violence isn't on the screen. It's not that what interests me. It's what leads to it."
More about Out of the Question: https://www.nearly.com.au/out-of-the-question-with-adam-zwar/
See omnystudio.com/listener for privacy information.