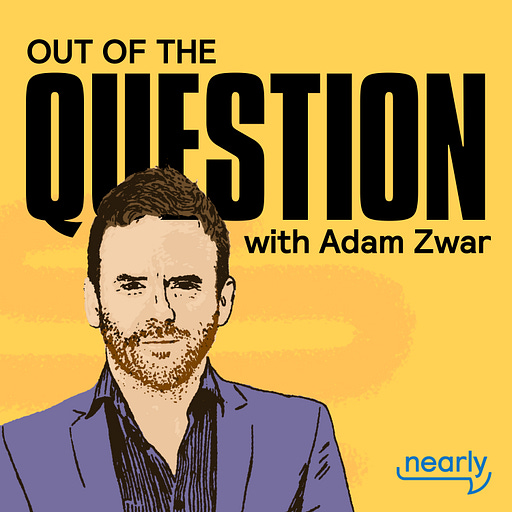 Jan 9 • 40M
S1E75: Ed Kavalee
'Out of the Question with Adam Zwar' features in-depth interviews with the most interesting and accomplished people in entertainment, politics and sport. It's an update on the original '10 Questions with Adam Zwar'
Adam's book Twelve Summers is out now.
Twelve Summers is the story of those big memories and the big matches that accompanied them, told by one of the funniest writers in Australia.
Those who only know today's guest Ed Kavalee from television are getting just a fraction of his personality.
His close friend, Josh Lawson, used to call him the unofficial mayor of Melbourne.
If you needed to get into a popular club or restaurant – you'd talk to Ed. I'd go further than that, if you needed a kidney, you'd talk to Ed.
Certainly, if you need someone to give you a rousing speech that will make you feel like you can lift a mountain, Ed's the guy to go to.
Ed came up through theatre sports and worked in radio promotions before becoming Tony Martin's co-host on Get This.
Then, when Get This was inexplicably pulled off the air despite bumper ratings, Ed became the co-host on Nova's Hughesy and Kate.
Many radio gigs followed, as well as a stint in LA and now he's hosting Hughesy, Ed and Erin on 2dayFM.
His TV credits include being a series regular on Thank God You're Here, TV Burp, Santo, Sam and Ed's Cup Fever, and now Have You Being Paying Attention.
Socials
Twitter - Adam Zwar
Facebook - Adam Zwar
10 Questions with Adam Zwar is produced in part by Nearly Media.
More about Out of the Question: https://www.nearly.com.au/out-of-the-question-with-adam-zwar/
See omnystudio.com/listener for privacy information.